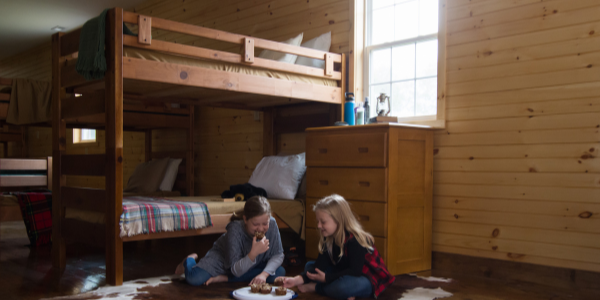 As a direct-to-consumer manufacturer, we serve a wide variety of customers, including camps, rescue missions, disaster relief and emergency shelters, colleges, and behavioral health facilities to name a few!
Whether you're looking to order new bulk mattresses for your facility or upgrade your institution's furniture, we're here to help you arrive at the best solution for your unique furniture needs. Our furniture is built to last with durable materials such as waterproof mattresses and durable all-steel construction bunk beds, making it a great investment.
Keep reading to get the inside scoop on what makes American Bedding furniture top-of-the-line.
What makes American Bedding's furniture so great?
1. High-Quality
At American Bedding, excellence is in everything we do. With this in mind, our furniture is always made with quality materials such as our bunk beds that feature an all-steel construction with a durable powder coat finish. Further, our mattresses are waterproof, wipeable, and stain-resistant which allows for easy maintenance when damage happens.
2. Comfort
Who wants to sleep on a bed if it isn't comfortable?! For guests who may have a long-term stay, our platinum series furniture, which couples the safety and durability of metal furniture with the warm, cozy feel of the wood-grain laminate accents, can provide the comforting feeling of a homey environment as they settle into your facility. Keep your guests comfortable and ensure a great night's sleep by pairing platinum series furniture with our mattresses to accommodate sleepers of all kinds - from young children to adults.
3. Durable
With our furniture and mattresses, you get more bang for your buck because of the dependable nature of our designs which have supported many sleepers over the years. Our furniture has been specifically designed with input from directors of facilities just like yours, allowing us to provide you with the durable features you need like metal bunk beds, easy optional safety features, and furniture options that can withstand intense use. What's more, you can feel confident about buying mattresses for your camp, dorm, shelter, or facility from American Bedding because our supportive foam core is as long-lasting as it is comfortable. We create well-made furniture taking longevity and affordability into account so you can be confident in your decision.
4. Safe
Safety for your guests is critical at your facility. Our mattresses are bed bug proof and antibacterial to keep pests and germs at bay. Through an intelligent, inverted seam design and a special enclosure, our mattresses keep bugs out for good. With our breathable PolySof fabric, which doesn't hold residual heat or have a plastic feel, your residents can remain safe while not sparing comfort. Additionally, each and every one of our mattresses meet the 16 CFR 1633 federal flammability standards to keep you and your sleepers safe. We also offer furniture pieces like
Additional Furniture Recommendations:
At American Bedding, we serve a variety of facilities and institutions with each one having specific needs and priorities. To that end, take a look at a few specific recommendations we have for your particular facility:
Shelters and Missions
Platinum Series Bunk Beds

: Check out these high-quality bunk beds to keep your residents safe, secure, and your shelters full.
Pro Tip: Purchase Platinum Series Bunk Beds in the spring/summer to stock up for when your mission or shelter reaches height capacity in the colder months.
Rehab & Recovery Centers
Platinum 2-Drawer Nightstand

: Utilize our secure, waterproof, lockable, and solid nightstand to accommodate guests' needs whether they have a short or long-term stay.
Pro Tip: Ensure your residents have a sense of belonging, safety, and independence by providing a safe place to keep their things while they stay in your facility.
Camps
Camp Mattresses:

Check out our camp mattresses as the perfect fit for the many cabins you'll need to fill with durable and sustainable mattresses each summer season.
Pro Tip: Freshen up your camp mattresses with a replacement mattress cover whenever you start to see wear and tear on those mattresses.
We just touched the tip of the iceberg with the many features and products American Bedding has to offer your facility. Get a more detailed, yet concise view of all we have to offer your camp, facility, or shelter by checking out our Buyer's Guide: Everything You Need to Know About Buying Furniture & Mattresses in 3 Minutes. This guide will help make your purchasing decisions easier than ever.