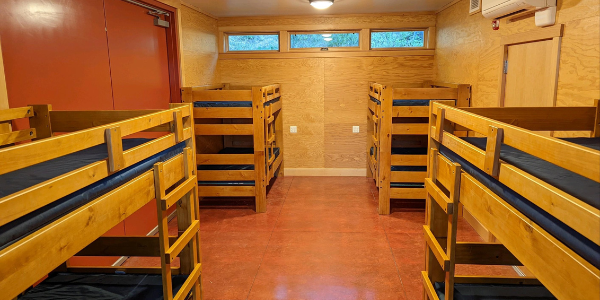 URJ Camp Newman, located in Santa Rosa, California, is a camp rooted in reform Jewish values, inspiring fun and adventure all year for kids ages 8-18.
Through activities like sports, outdoor adventure, music, art, dance, leadership training, and social action, campers are able to find community and apply what they learn to better themselves, their communities, and the world.
In September 2017, nearly 90 percent of the grounds and buildings—81 of the camp's 90 structures—were burned and damaged by a devastating wildfire that affected many parts of the state. From that devastation, American Bedding stepped in to help bring the camp back to normalcy by installing new bunks and mattresses within the camp cabins.
Installation services through American Bedding provided a turn-key experience for the camp and its staff. As part of the installation package, our team worked in two phases to offload, install, and haul away trash in a matter of days. The first phase took one week and the second phase took just 3 days!
This installation provided some unique challenges based on the terrain and remote location of the camp. The camp consists of dozens of camper cabins spread across the mountainous campus, so specialty equipment was brought in to assist in the offload and distribution of furniture throughout the facility.
Project Details:
URJ Camp Newman utilized our Hampton Collection of camp furniture. This collection provides a beautiful, warm, and residential feel for campers with the solid wood construction these products require. Providing strength and a honey pine finish, the Hampton Collection offers commercial durability and performance with a home-like feel.
Phase 1
2021: 125 bunks, 250 mattresses
Phase 2
2022: 64 bunks, 128 mattresses
Products Installed:
Are you interested in using our professional installation services for your facility, camp, or dorms? All it takes is one call to American Bedding and you will see for yourself the difference our team's expertise and dedication can make as you make the best choice for the unique needs of your facility.