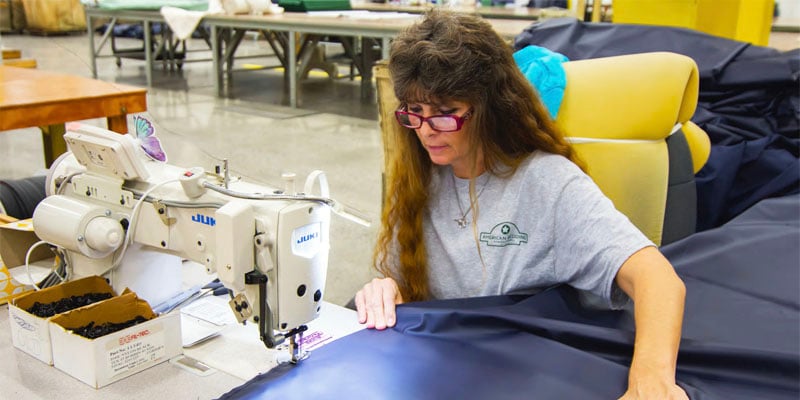 Buying your shelter mattresses from just anywhere won't guarantee you the same benefits as American Bedding. Bring comfort, safety, and durability to your mission or shelter by using American Bedding mattresses and furniture. Not only can you create a safe and comfortable place for your residents to sleep but also stock your mission or shelter with long-lasting furniture. We're thrilled to discuss a bit more of what makes our mattresses special (and will make all your residents feel that way, too).
1. Durability
When you shop for shelter mattresses from American Bedding, you're getting not only our commitment to provide you with what your facility needs, but the commitment of our products as well. Our mattresses stand apart from the rest for a few key reasons, two of which are the fact that they're waterproof and they're 100% recyclable. Furthermore, you can feel good about buying shelter mattresses from American Bedding because their supportive foam core is as long-lasting as it is comfortable. That means it won't break down and you are able to stretch your dollar further by getting more bang for your buck!
2. Can Withstand Frequent Sanitation
With the challenges shelters face today from preventing the spread of COVID-19 to housing more and more residents, frequent sanitation is more important than ever. American Bedding's mattresses are up to the challenge, providing durability in the face of frequent sanitation. Refer to our handy guide for keeping your mattresses clean and know that they can withstand being cleaned over and over again (and over, and over, and over!).
3. Waterproof
Let's talk a bit more about the waterproof feature. Mattresses — no matter where they are — are subject to all kinds of treatment that can not only weaken them but make them less safe and comfortable. Waterproof capabilities allow your mattresses to be safe from body fluids, mildew, mold, spills, cleaning supplies, or damp storage areas. Both our PolySof OX-P and our AntiBAC Vinyl are waterproof, wipeable, and stain-resistant. We also discuss their hygiene benefits below. Check out our top-selling mattress with waterproof features here.
4. 100% Recyclable
There should be no debate that the earth deserves better, and clogging up landfills with old mattresses is no way to accomplish this. While there may come a day when you'll have to part with your mattresses, you can rest assured that ours are 100% recyclable. When recycled, our mattresses are disassembled where each piece can continue to serve a specific purpose. Springs, coils, fibers, and foams can either be repurposed to make a new product or are burned as a fuel source. Learn more about why this is important and how you can help.
5. Hygiene
We discussed that our mattresses are waterproof, wipeable, and stain-resistant. All of these factors make them easy to clean when and if messes do occur. However, our mattresses answer to an even higher level of hygiene — they're also bed bug proof and antibacterial! This is critical when it comes to your mission or shelter and the high volume of individuals using your facility. These factors not only keep mattresses fresh and safe to use season after season, but also keep your facility and your residents protected and healthier, too.
6. Bed Bug Proof
It's true! Our mattresses are also bed bug proof. Through an intelligent, inverted seam design and a special enclosure, our mattresses keep bugs out and moving on their way. The outer materials we use — either PolySof or AntiBAC Vinyl — also create an impenetrable surface that prevents any burrowing.
7. Antibacterial
The antibacterial properties of our mattresses safeguard your residents' health with yet another layer of protection, so everyone can rest easy. You may be thinking that if our mattresses have all these great features, and are also antibacterial, they can't be very comfortable, right? Fortunately, our PolySof doesn't hold residual heat and does not have a plastic feel.
8. Affordability
Now that you know a bit more about just how durable and hygienic our mattresses are, we have some more good news for you: our mattresses are affordable without sacrificing the quality, too! We have plenty of different sizes and styles available to meet your needs. In addition, our Bed Bug Proof mattresses and mattress cover technology are designed to withstand the needs of your facility. We get it. You're busy and our consistent excellence in mattresses is exactly what you need. And, if you find yourself needing new furniture to further accommodate your residents, we've got you covered as well.
Our team is ready to chat with you about the unique needs of your mission or shelter today. Give us a call to talk more in-depth about your needs or receive a custom quote, contact us or click below to get started!