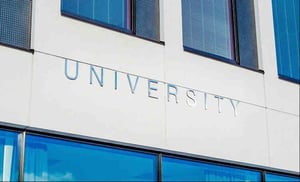 School just ended which means that now is the time to purchase mattresses for your college dormitories.
If you play any part in the purchasing process at the college or university where you work, then you're well aware that May is the month of mattress shopping.
But are you aware of the types of mattresses and mattress covers that your residence halls need?
If not, keep reading. We'll tell you what you should be looking for right now so you're ready for dorm students in the fall.
Durability
Obviously, nobody plans to buy a flimsy mattress, but a college dorm room is one setting that truly demands durability. Unlike mattresses at summer camps that accommodate sleepers for about 8 weeks out of the year, dorm mattresses have students sleeping on them for the majority of the year. Multiply each month by the number of years the school keeps the mattresses, and it's clear why durability matters.
At American Bedding, we don't just claim that our mattresses are durable; we build them to function that way. During the manufacturing process, we place heavy, durable fiber padding over our mattresses' spring units to keep them evenly supported. We also use a 312 Bonnell coil constructed with tempered wire and a 6 gauge border rod.
Comfort
Although sleep may not be a priority for college students, it's still a necessity. Whether students are going to bed at 10 p.m. or 4 a.m., they want their mattresses to provide comfort—and they'll notice if they don't.
That's why our dormitory mattresses include a high-quality foam topper. This extra layer of cushion makes a big difference after a long day or before a big one.
For even more comfort, we offer XXL dorm mattresses that are ideal for athletes. You can also design a custom spec that meets your specific comfort needs.
Bed Bug Proof
Unless you want an angry parent in your office threatening to sue the college because their student has bed bug bites, we suggest you get Bed Bug Proof mattresses.
Bed bugs are sneaky little creatures, and if they make it into one (or more) of your residence halls, you better believe they're going to stay. Our Bed Bug Proof mattress is designed with inverted seams so bed bugs don't have a place make a home or even hide. Without the crevices found in typical mattress seams, these pesky critters don't stand a chance.
For more shopping tips or mattress information, call American Bedding Manufacturers, Inc. at (800) 203-2507. We offer the quality you not only need, but also deserve.