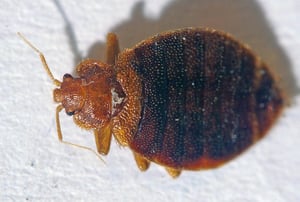 If you've ever dealt with the unfortunate event of finding bed bugs on your mattresses, your first instinct might be to throw everything away in a fit of panic.
However, that isn't a very frugal approach to dealing with bed bugs. You can hire a professional to eliminate them -- which is still pricey -- or you can do it yourself. Taking on this project alone is hard work, but it is possible.
Here's how to rid your homeless shelter, rehab facility, camp cabin, or college dormitory of bed bugs.
Wash and Dry
Heat is the key ingredient for destroying bed bugs. Temperatures between 117 and 122 degrees Fahrenheit will kill these pesky critters. That means you can kill the bed bugs on your sheets and blankets by washing them in hot water.
Some items cannot be washed in a washing machine, but they can still be dried. Putting those items in the dryer on high heat for 20 minutes should kill the bugs.
Steam and Vacuum
When it comes to beds, furniture, floorboards, and other accessories near your bed, a washer and dryer are not helpful. Steam is the perfect solution for items that you can't toss into the washer or dryer. However, keep in mind, steam does not kill the bed bugs you can't see. If they're hiding in crevices out of site, steam will not be effective in eliminating them.
After you've washed and steamed everything, including mattress covers, mattresses and bunk beds, use a vacuum to clean up the dead bed bugs as well as the shells, eggs, and fecal matter they've left behind.
Our bed bug proof mattress covers also keep bed bugs in. They have been independently certified to trap bed bugs with no possibility of escape, so they can still be used safely! They're also cheaper and more effective than DIY plastic wrap that people sometimes use to suffocate bed bugs on a mattress or mattress cover.
Heat Treatment
To treat items that can't be effectively steamed, we recommend purchasing a portable heat box. A heat box is designed similarly to a cooler with a plug. You can put books, documents, shoes and other items in the box and turn it on. The box heats to a temperature that destroys the bed bugs, but not your items.
The key is getting infected items to reach the 117-122 temperature range. Because these high temperatures must reach all the way to the items' core, it can be difficult to DIY. Make sure that items, particularly dense items like wood or pillows, are heated long enough for the insides to meet the required temps.
Spray and Powder
To finish things off, purchase sprays designed to kill bed bugs. You'll want a contact spray, which kills and evaporates quickly, as well as a residual spray, which offers long-lasting protection in case there happen to be any eggs left behind that could hatch.
Powders can also be used to kill bed bugs and prevent hatchlings. Just remember that sprays and powders should not be used on pieces of furniture that humans touch. Use them in crevices like between baseboards and the carpet or tiny spaces on the bed frame that do not come into contact with humans.
Don't be afraid to be an overachiever when you're ridding your facility of bed bugs. In fact, be an overachiever because if you do this job halfway, you'll end up doing it all over again in a few weeks.
Get Bed Bug Proof Mattresses
Once you've eliminated bed bugs from your facility, take extra precautions to make sure they do not return. One of the best ways to prevent another infestation is to use mattresses and mattress covers with a bed bug proof design. The inverted seams on the mattresses at American Bedding offer no place for bed bugs to hide, making an infestation unlikely.
Curious about our bed bug proof mattresses? Contact us online, or click on the banner below to request a quote. We don't want you to deal with bed bugs any more than you want to. Give us a call today at 1 (800) 203-2507.