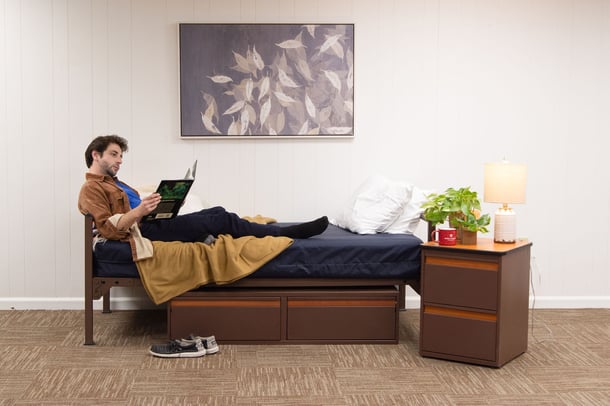 Have you been on the hunt for an easier, quicker, and more efficient way to shop for your facility's furniture and bedding? At American Bedding Manufacturers, we have created an innovative digital product guide, designed to revolutionize the way you explore and choose the perfect bedding products. Keep reading as we showcase the outstanding features and benefits of our digital product guide, offering you a seamless and efficient way to discover the best bedding solutions for your needs.
A Comprehensive and Convenient Catalog: Say goodbye to flipping through physical catalogs or browsing limited online listings. Our digital product guide grants you access to an extensive range of bedding products with just a few clicks. From

mattresses

and

pillows

to

furniture collections

and accessories, our guide encompasses our entire collection. Each product is accompanied by detailed descriptions, high-resolution images, and specifications, empowering you with all the necessary information to make informed decisions.


Detailed Furniture Listings: Our detailed furniture listings offer you an in-depth understanding of each item's design, dimensions, materials, and finishes. Whether you're seeking a sleek metal design like our

Platinum Metal Series

or a classic wooden look, our

Hampton Wooden Collection

, our guide provides comprehensive descriptions and high-quality images to help you envision how each piece will fit into your facilities decor.


Stay Informed and Inspired: The world of bedding and furniture is constantly evolving, with new materials, technologies, and design trends emerging. Our digital product guide ensures you stay up to date with the latest advancements. From innovative cooling technologies to sustainable and bed-bug proof options, we curate our collection to cater to diverse needs and preferences. Explore our guide to find inspiration and stay informed about the cutting-edge trends in the bedding industry.


Embracing Digital Transformation: As a leading provider of top-quality bedding products, we recognize the importance of embracing digital advancements to enhance the customer experience. Our digital product guide represents a significant leap in this direction, and offers a platform that simplifies the process of exploring and selecting the ideal items you need.
Discover the perfect bedding products that align with your unique needs and preferences effortlessly through our product guide today. Our guide will allow you to easily compare and contrast the features, materials, and sizes and colors of our mattresses, mattress covers, metal bunk beds, metal furniture, wooden furniture and linens.